Camanho Arquitetura office signs an apartment in São Paulo
It is a 342m² penthouse that was developed for two brothers aged between 65 and 70, retired, who love to receive their family.
The idea was to individualize the floors. The lower floor was designed for Marisa and the upper floor for Ayrton, with the challenge that the environments maintain the same design line. The request was to have a gourmet that would serve the whole family, with barbecue, table for meals and living room. The professionals were able to individualize and at the same time personalize the project.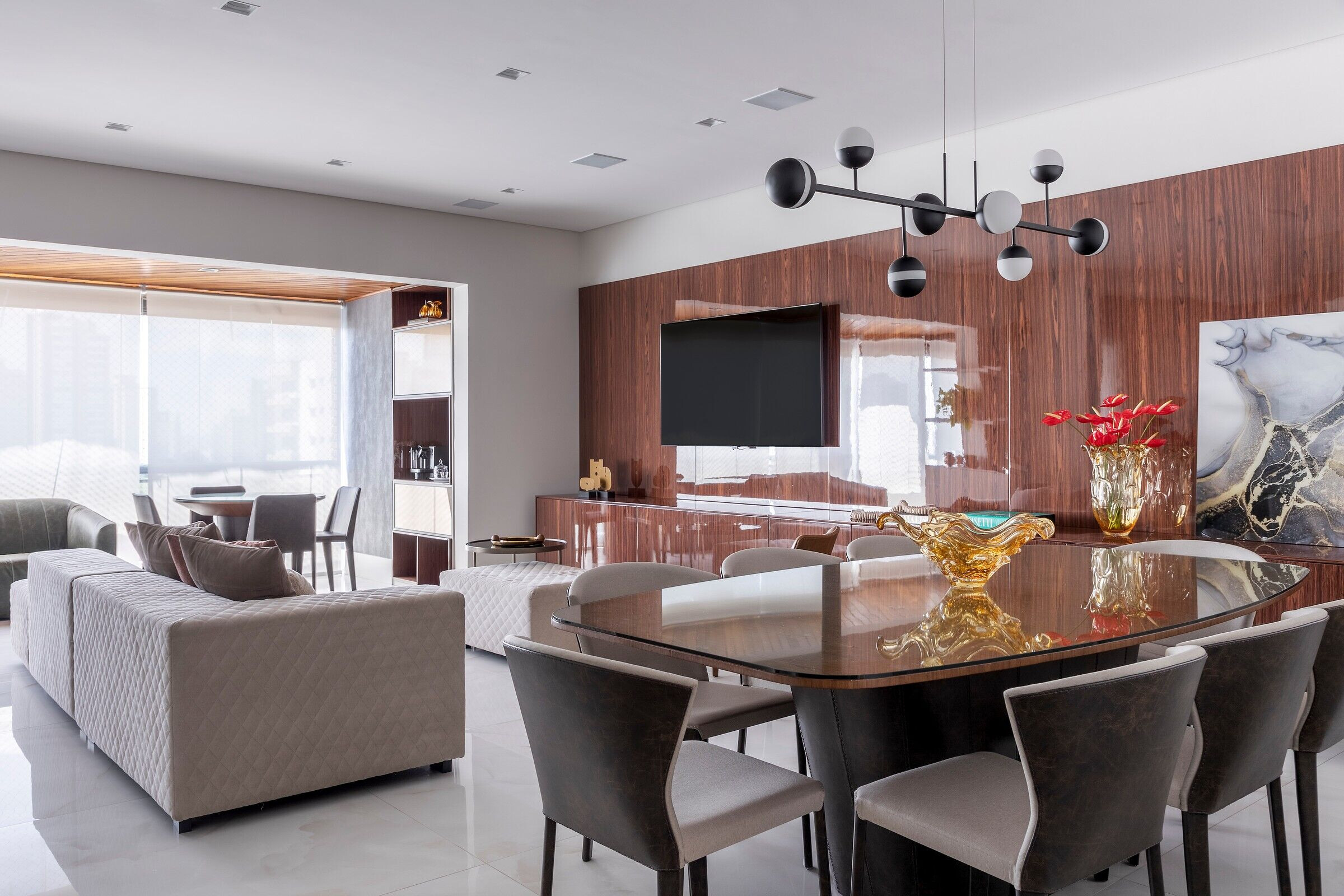 On the lower floor there were two suites and two bedrooms. The suites were maintained, one of them, the lady's, had no closet, so it was decided to use the bathroom to create the closet, in this way the door was moved, to make the room larger. One of the bedrooms became an office and the other was integrated into the living room to expand it. On the upper floor, the closet was expanded, removing a wall dividing the room.
The main idea was to bring sophistication and functionality at the same time. The apartment needed to be prepared not only for the residents but also for their children and grandchildren. The starting point suggests living and receiving, a refuge for them and the whole family.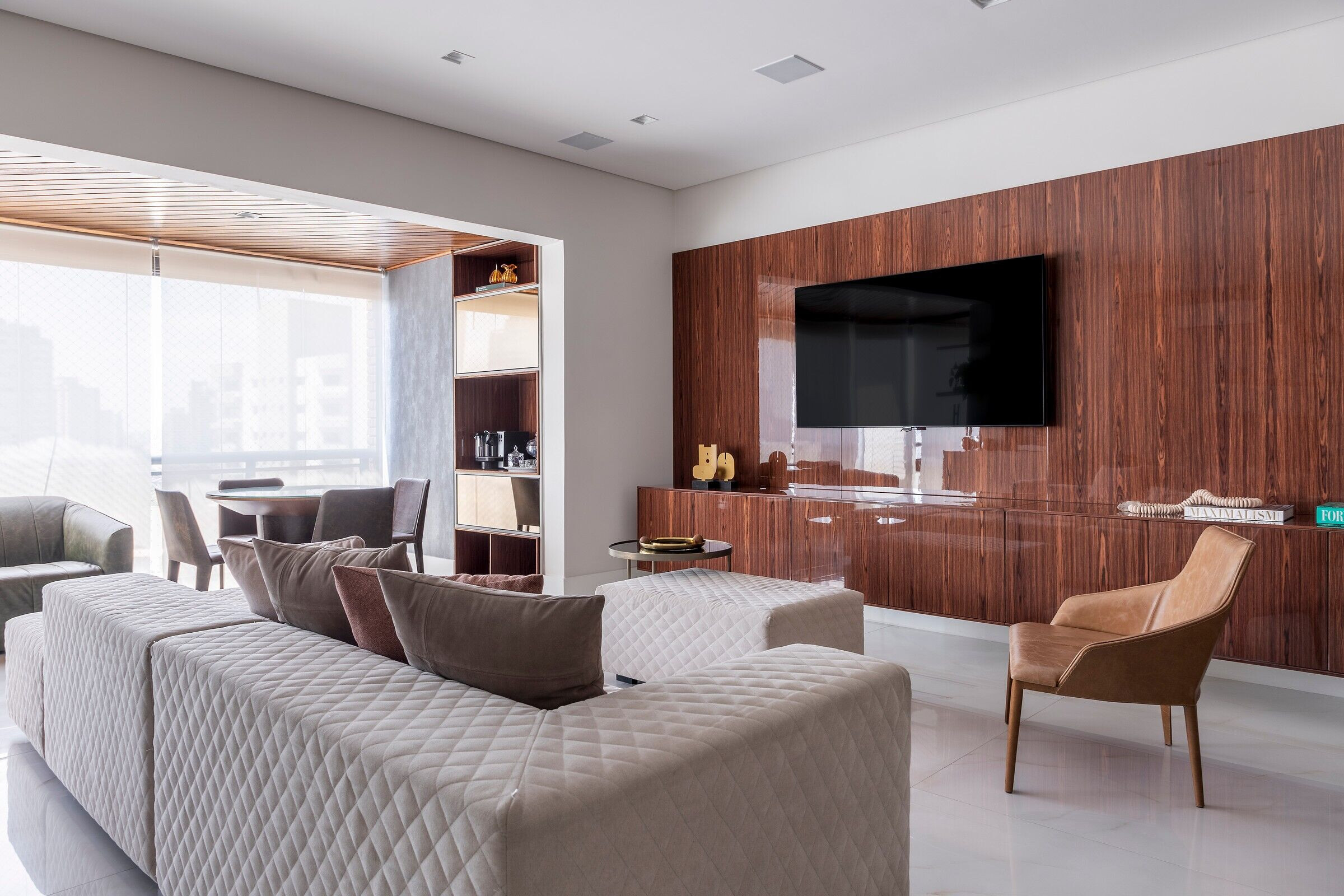 As we are talking about a couple of elderly siblings with very young grandchildren, this coverage was designed to bring safety and functionality. With that, the architects abused the carpentry, so that it would be the highlight of the project, already knowing that they could not have an elaborate decoration.
All electrical and plumbing was replaced, as the building is over 35 years old and the apartment had never been renovated.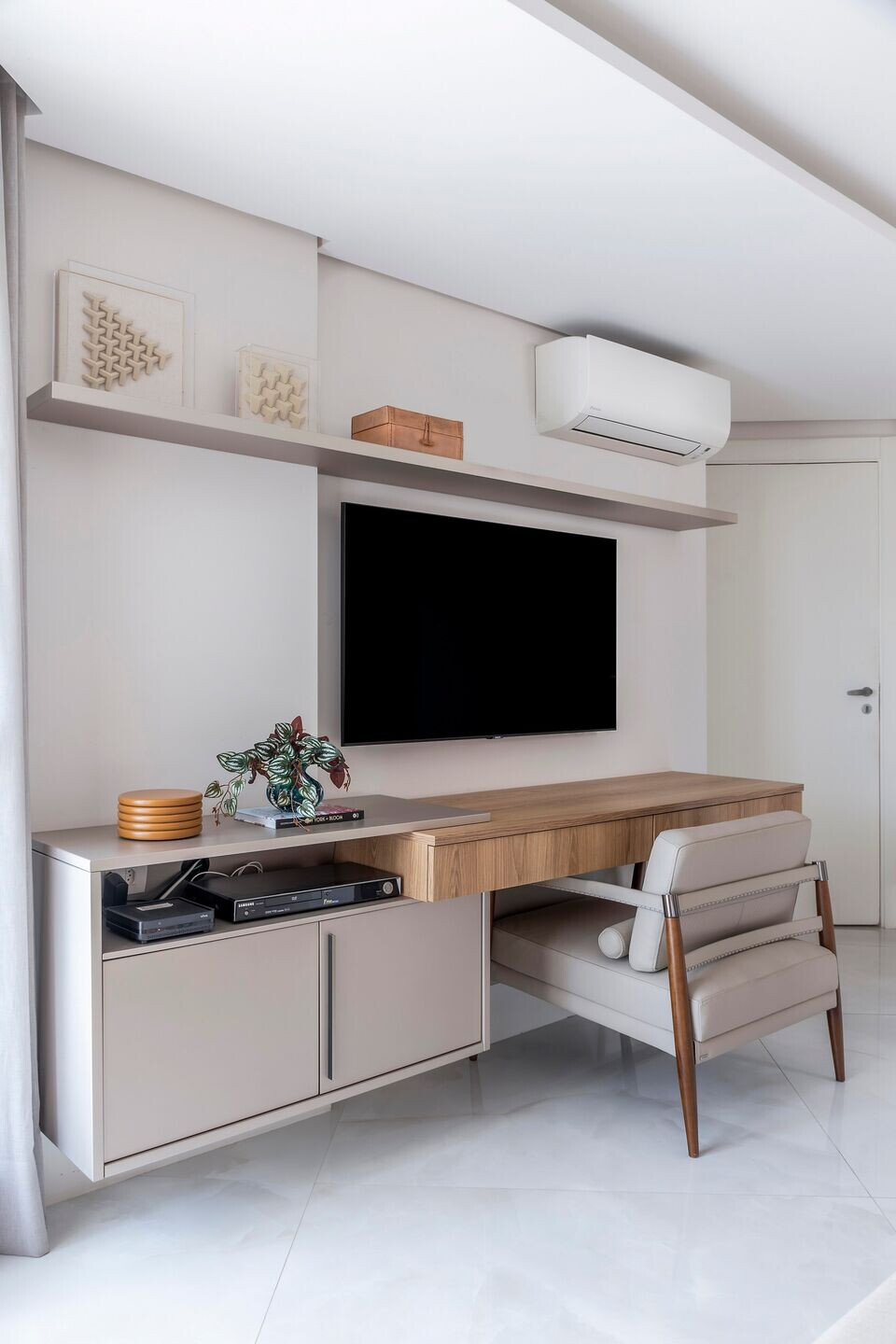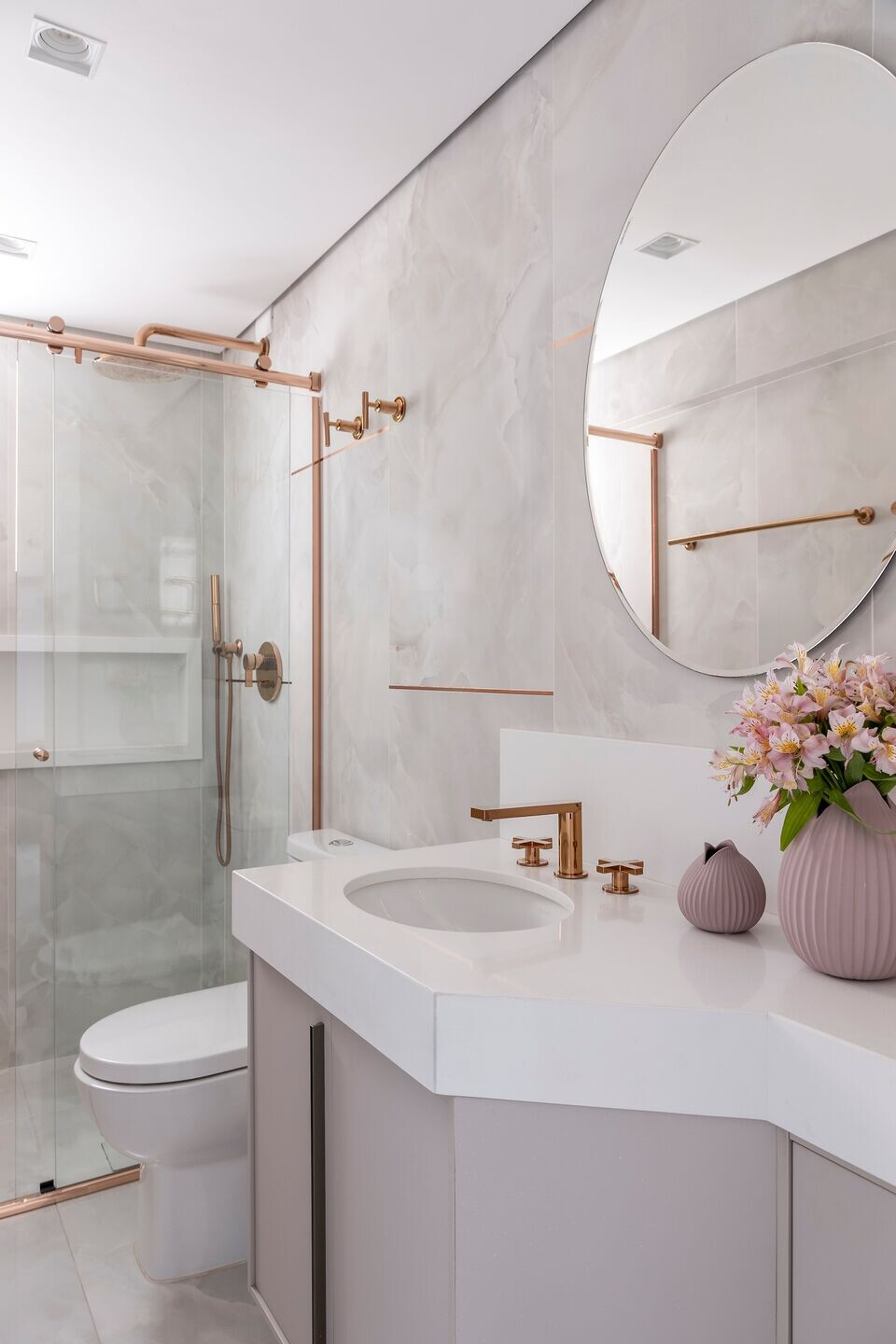 To maximize the project's layout, the living room and dining room were integrated to provide more convivial moments. On the balcony it was no different, and a table for quick meals was made available for moments of relaxation. The gourmet was premised on elegance, spacious and also integrated. Shades of gray and caramel were the starting points.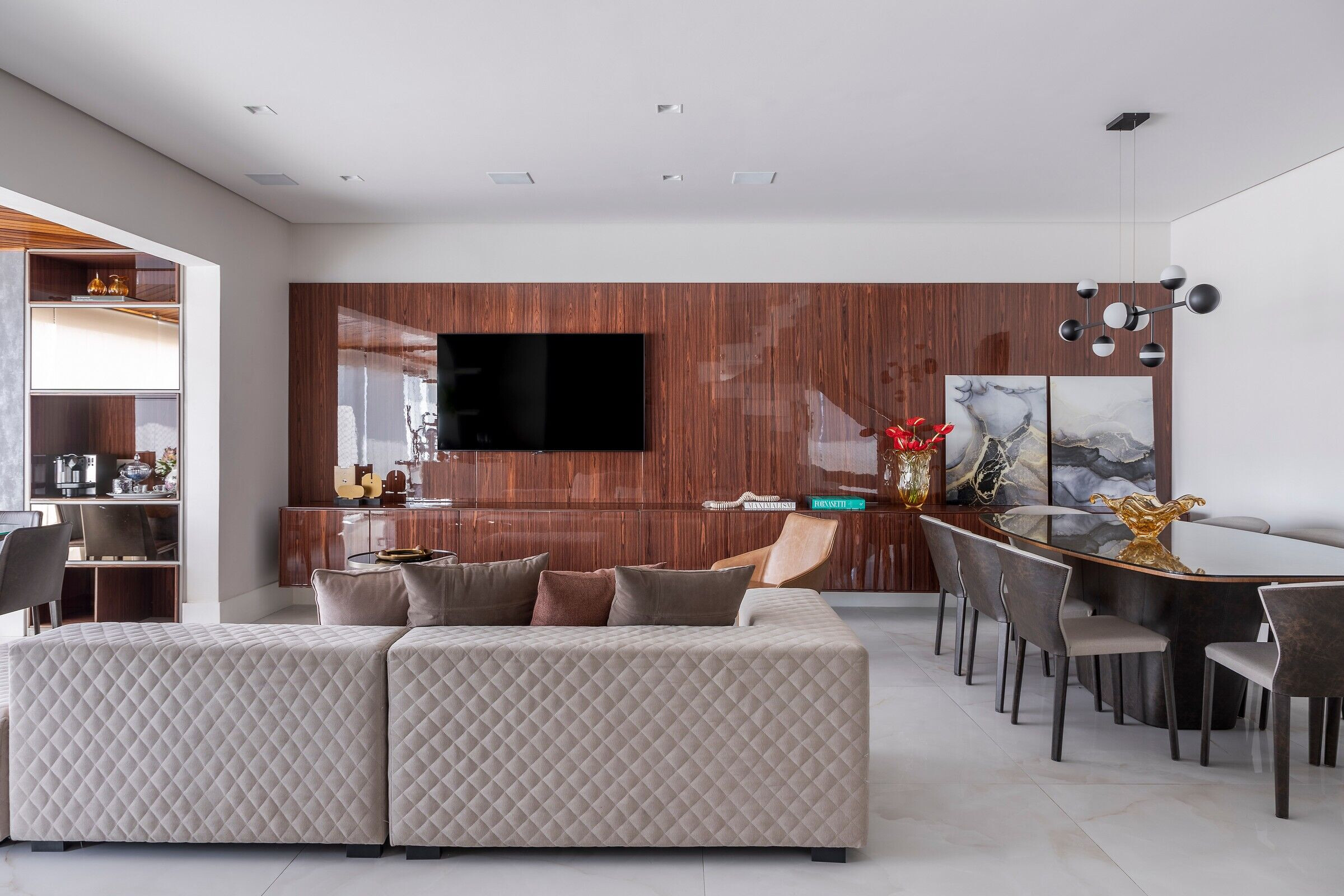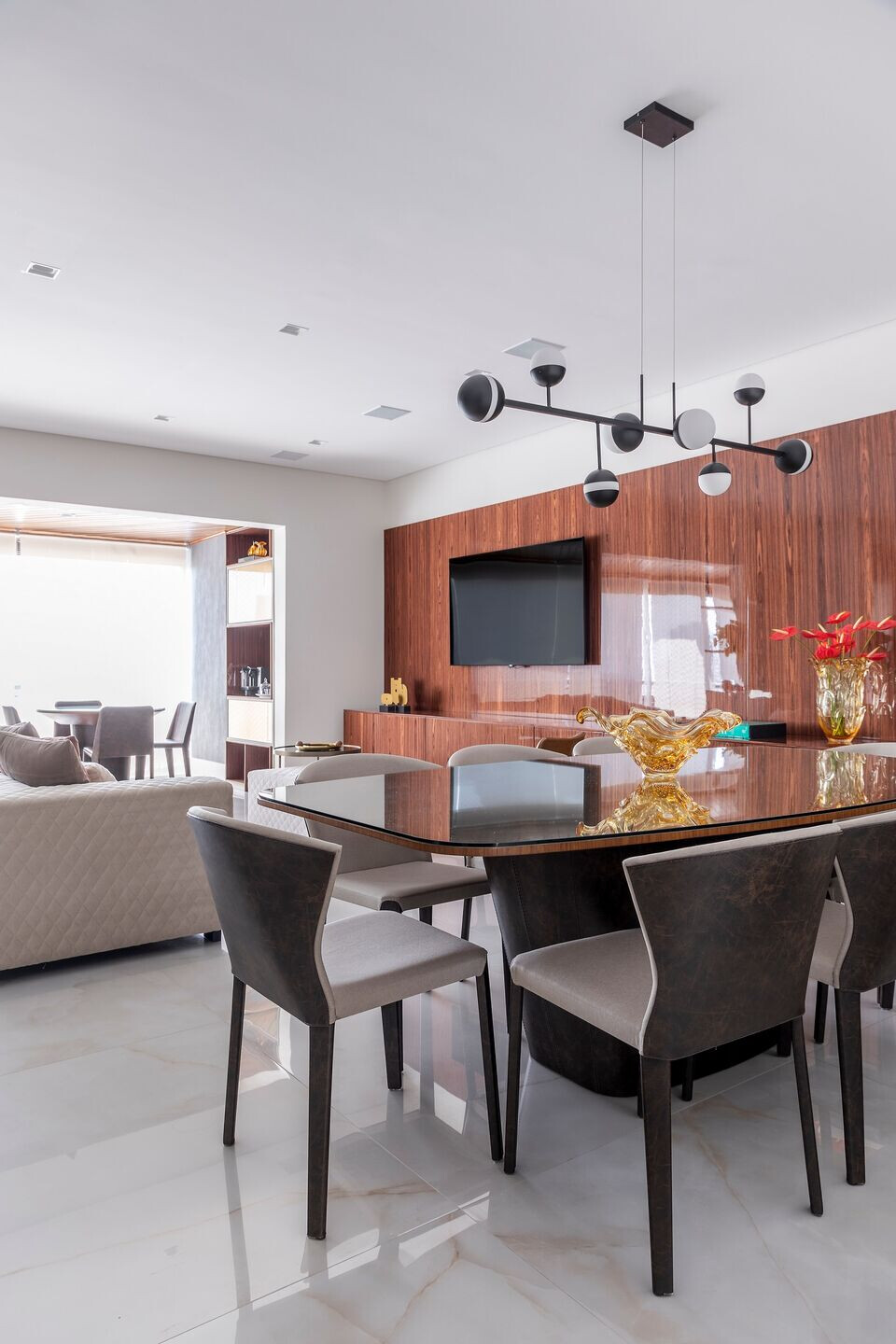 Team:
Architect: Camanho Arquitetura
Photography: Rafael Renzo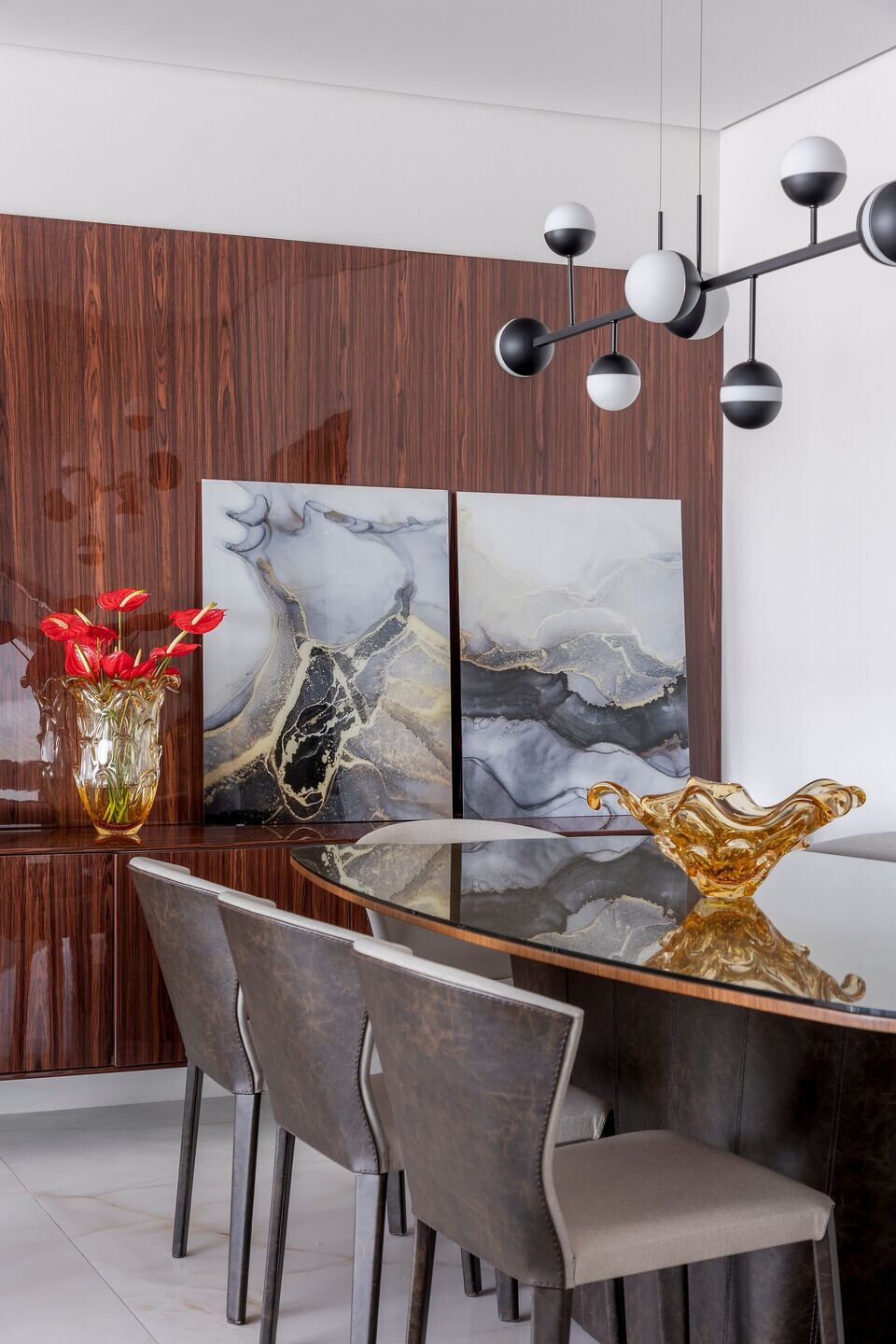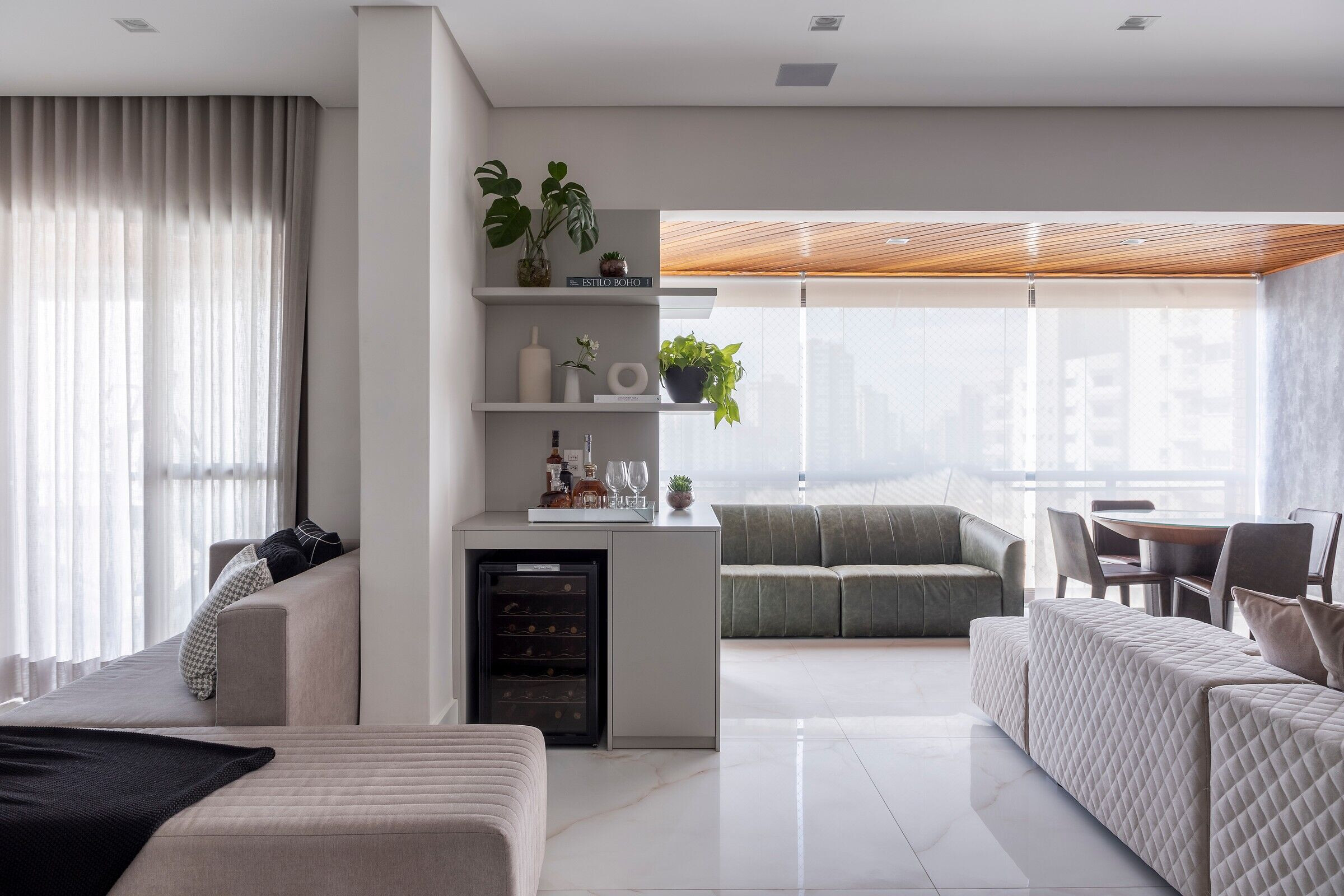 Material Used:
Gourmet – We use the premise of elegance, we thought of a wide and fully integrated gourmet, we created a living room / TV in the gourmet, to bring comfort. Shades of gray and caramel were the starting point.
1. Furniture – Doimo / Salva – Camanho Casa
2. Marble – Marble Craft – Sintered Blade – Calacata.
3. Carpentry – Bontempo
4. We cover the walls with an exclusive wood in gray color
5. Lighting – Empório Luz
6. Floor covering – Matt Gray Porcelain – Connection Silver by Biancogres.

Master Master Suite / Closet – With a contemporary style and neutral colors, the master suite gained a welcoming atmosphere.
1. Furniture – Doimo / Salva – Camanho Casa
2. Carpentry - Bontempo
3. Lighting – Emporio Luz
4. Floor covering – Onix Bianco Porcelain by Biancogres

Senhor Suite Bath – Our highlight was all about natural lighting. Modern and welcoming.
1. Carpentry – Bontempo
2. Marmoraria – Artesamarmo Super White Quartz
3. Coating – Porcelain Ônix Bianco by Biancogres

Suite and Ladies Closet – The idea was to bring the feminine to this suite, with pastel, beige and pink tones. The result was balance and warmth.
1. Carpentry – Bontempo
2. Marmoraria – Artesamarmo
3. Furniture – Doimo / Salva – Camanho Casa
4. Floor covering – Porcelain Ônix Bianco by Biancogres

Ladies Bath – Highlight for the details in rosé. Perfect combination.
1. Carpentry – Bontempo
2. Marmoraria – Artesamarmo Quartz Super white
3. Wall and Floor Coating – Onice Al Polido

Living / Dining Room / Living Room – To maximize the layout of the environment, we decided to integrate the dining room into the living room, it was designed to integrate the family and provide moments of conviviality. On the balcony it was no different, and we left a table for quick meals or moments of relaxation. As the idea was to integrate, including the children, we created an open home for this purpose.
1. Furniture – Doimo / Salva – Camanho Casa
2. Bontempo Carpentry
3. Floor covering – Porcelain Ônix Bianco by Biancogres